The NEXT System™ was created to facilitate the rapid democratization of neuro‑literacy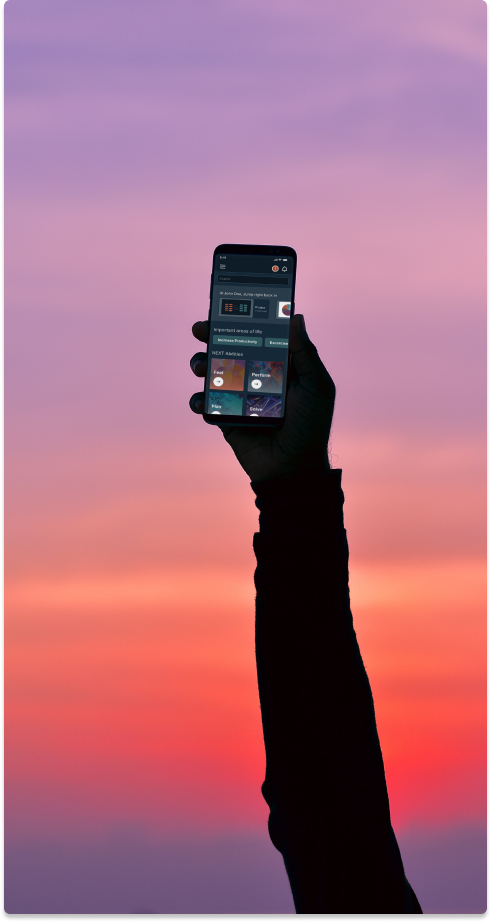 NEXT is a for-profit double-bottom-line social impact enterprise
Created by a team of experienced innovators, scientists, practitioners, social entrepreneurs, and thought leaders whose lived experience led them to understand the profound need for neuro-literacy as a system to combat mental unwellness.
When NEXT was founded, we observed that there had not been a breakthrough product or service in the field of human adaptability and well-being in decades.
We became inspired to apply our experience pioneering new technologies and social movements to the complex challenge of creating a breakthrough non-clinical solution that virtually everyone can use to improve their personal performance and well-being – and avoid the downward spiral of lifestyle-induced unwellness. We are leveraging the Internet community model to build a large force of people and organizations to drive innovation and rapid adoption.
Founded in science
There is a solid foundation of science to build on. Recent advances in psychological science have led to a deeper understanding of brain function and the mechanisms of neuroplasticity by which the brain can "rewire" itself. Many evidence-based techniques, apps, and online services have emerged to help people overcome the limitations arising from the mismatch between their biology and the complex challenges and opportunities of modern society.
However, there is currently no standard protocol or combination of protocols that integrates these techniques into a unified system, let alone a technologically mediated one. The techniques are disparate and difficult to apply even if one is well-trained and motivated. Many are typically applied remedially rather than proactively, and many are expensive to deliver.
The Universal Method
Our solution to this complex problem is The Universal Method for Applied Neuro-literacy™, enabling technology we developed to train virtually anyone to self-direct their brain's neuroplasticity. With it, a person can develop the ability to "rewire" aspects of their brain's automatic responses, overcome internal self-barriers, enhance their pro-social and health behaviors, and improve their ability to direct their behavior towards the achievement of personally meaningful goals, ultimately enabling them to realize their full potential.
Our training programs are evidence-based non-clinical performance solutions. They employ a combination of well-established but never-before-combined behavior change techniques; models for experiential and transformative learning, self-awareness, self-regulation, and self-management; and our own proprietary techniques. They are also intuitive and language/culture agnostic, and can be used proactively and/or remedially. No special apparatus is required. They can be taught with a pen and paper or technology-enabled using mobile personal-computing technology.
Integrating behavior change into a unified system
The NEXT System™ provides a standard protocol for the integration of behavior change techniques into a unified system to address the whole person across their lifespan, such as evidence-based psychological techniques, consumer electronics, software, Web-based programs, and self-help books. Even personal organizational techniques can be integrated (e.g., lists, calendar reminders).
To facilitate the rapid democratization of neuro-literacy, we are creating the NEXT System™, a cloud-based technology platform that makes products and services based on the System of Intervention widely available and applicable. It is designed and documented so that it will be embraced by social institutions and the global scientific and practitioner communities that inform them and democratized like literacy.